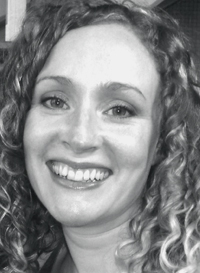 Sinead McKenna – Lighting Designer
Sinéad is one of Ireland's most in-demand lighting designers.  She won the prestigious Irish Times Theatre Award for Best Lighting Design for Semper Fi's Ladies and Gents, which has toured cities throughout the world.  She was also nominated for a Drama Desk Award for her design of Rough Magic's Improbable Frequency in 2009.
Recent designs include Macbeth at the Lyric Theatre, Belfast; Quietly at the Peacock Theatre; The Titanic Boys for Martin Lynch; The Plough and the Stars for the Abbey Theatre; Greener for Landmark Productions; and Dubliners for The Corn Exchange at the 2012 Dublin Theatre Festival.  Other recent theatre designs include The Magic Flute for Opera Theatre Company; 16 Possible Glimpses (Abbey); Alice In Funderland (Abbey); and Faith Healer (Town Hall, Galway).
Previous designs include The New Electric Ballroom (Druid); The Importance of Being Earnest, Improbable Frequency, The Parker Project, Life is a Dream, Attempts on her Life and Dream of Autumn (Rough Magic); October, The Last Days of the Celtic Tiger and Blackbird (Landmark);God's Grace and Adrenalin (Semper Fi); The Burial at Thebes, Howie the Rookie and Finders Keepers (Peacock); Circus (Barabbas); Private Lives (Gate Theatre); and Honor (b*spoke).
She has also designed Macbeth, Philadelphia, Here I Come!, Othello and How Many Miles to Babylon (Second Age); All Over Town and Wunderkind (Calipo); and Henceforward (Derby Playhouse). For Gúna Nua she designed Skindeep, Scenes from a Watercooler, The Real Thing and Dinner with Friends.  For The Performance Corporation she designed Candide andThe Butterfly Ranch.  Other theatre designs include Shooting Gallery (Bedrock); The Snow Queen and Merry Christmas Betty Ford (Lyric Theatre); The Gist of It (Fishamble); Hard to Believe (Storytellers); The Woman who Walked into Doors (Upbeat Productions); and Diarmaid and Grainne for Passion Machine.
Dance and opera designs include A Midsummer Night's Dream (Opera Ireland); Does She Take Sugar for Jean Butler; Swept (CoisCéim); As a Matter of Fact (Dance Theatre of Ireland); and La Bohème for Co-Opera.
Sinéad's international work includes La Traviata for Malmö Opera House.  Her comedy designs include Bovinity for Tommy Tiernan; the Tongues and Fitting In tours for Des Bishop; Neil Delamere at Vicar Street; and Maeve Higgins' Ha Ha Yum.